Welcome all!
John Lee Dumas here (but you can call me JLD).
I'm the founder & host of Entrepreneurs On Fire, an award-winning podcast where I interview inspiring entrepreneurs to help YOU along your entrepreneurial journey!
I'm also the author of The Common Path to Uncommon Success, your 17-step roadmap to financial freedom and fulfillment!
If you're tired of spending 90% of your day doing things you don't enjoy and only 10% doing things you love, then you're in the right place. My goal with Entrepreneurs On Fire is to deliver the inspiration and strategies you need to FIRE UP your entrepreneurial journey and create the life you've always dreamed of.
I've interviewed over 3,000 incredible entrepreneurs, including Tony Robbins, Seth Godin, Gary Vaynerchuk, Barbara Corcoran, Tim Ferriss, and many more.
However, before Entrepreneurs On Fire was even a thought, my journey was full of struggle and searching.
After serving as an active duty Army Officer for four years, I tried Law School (1st semester dropout), Corporate Finance and Commercial Real Estate. Here's a video of my journey, and I'm willing to bet you can relate…
My story…
More Deets:
How I can help you…
The Common Path to Uncommon Success
We all start from a place of doubt.
That's why this book is critical to your success.
The Common Path to Uncommon Success outlines the 17 steps to financial freedom and fulfillment with clarity and integrity.
These are the success principles that I've extracted from thousands of hours of conversations with the world's most inspiring and successful entrepreneurs.
I challenge you to complete this roadmap. If you truly commit, your version of uncommon success awaits you at the finish line!
Challenge accepted?
YOU GOT THIS!
The Common Path to Uncommon Success will…
Reveal the steps that will lead you to success and financial freedom.
Dispel the doubts and fear you're currently facing and provide a clear path to fulfillment in every area of your life.
Ensure you avoid the pitfalls that destroy the hopes and dreams of countless entrepreneurs.
Provide a bonus "Well of Knowledge" section for you to tap into when in need of inspiration or motivation!
The Freedom Journal
I've interviewed over 3,000 successful entrepreneurs and the ONE commonality each have is the ability to SET and ACCOMPLISH goals.
This gave me the idea to create a step-by-step guide so YOU can learn how to set and accomplish a MAJOR goal in just 100 days!
The Freedom Journal: Accomplish your #1 goal in 100 days!
The Freedom Journal was launched on Kickstarter and went on to generate $453,000 in 33 days. To date we've sold over 30,000 Freedom Journals and Amazon awarded The Freedom Journal 'Amazon's Choice' for Journals!
You can learn more and snag yours here!
The Mastery Journal
With the success of The Freedom Journal, I knew another journal simply had to be created.
My three greatest strengths are productivity, discipline, and FOCUS.
I see so many struggle with one, two, or all three of these.
So I created The Mastery Journal: Master productivity, discipline, and focus in 100 days!
With The Mastery Journal you'll have a step-by-step guide to ensure you produce the RIGHT content on a daily basis. You'll truly get more done before 9am then the rest of the world does all day!
To date we've sold over 20,000 Mastery Journals and Amazon awarded The Mastery Journal 'Amazon's Choice' for Journals!
You can learn more and snag yours here!
The Podcast Journal
The Podcast Journal is something we've been brainstorming for a couple of years now, and in 2018 we were very anxious to bring it to market.
The Podcast Journal is a complete step-by-step guide that helps individuals who are just getting started on their podcasting journey come up with their podcast idea and take that idea all the way to launch.
The Podcast Journal launched in July 2018 and is available at ThePodcastJournal.com and on Amazon!
If you're ready to go from Idea to Launch in 50 Days, then The Podcast Journal is for you!
My Journey
I may be an Entrepreneur now, but I haven't always been one. Here's a little background on how I came up with the idea to launch a daily podcast, and also how I'm directing all my passion and energy towards my goal of Inspiring Millions.
The day I graduated…
I graduated from Providence College in 2002 and was commissioned as an Officer in the US Army. After a 13-month tour of duty in Iraq as an Armor Platoon Leader (Tanks) and a total of 8 years in the Army, I set out to do what I was 'supposed to do'… find a J.O.B.
I tried Law School, and after one semester dropped out.
Next, I took a job at John Hancock in Boston, which lasted a mere 18 months.
My next job was for a tech start-up in NYC. I loved the Big Apple, but not the job, so I jumped in my car, headed west, and ended up in San Diego.
My introduction to Podcasts
Once in San Diego, I started working in Real Estate. It was horrible timing (think 2009 real estate market), so I had to get quite inventive to make a buck, and this is when my Entrepreneurial dreams were born.
I quickly found that driving would be a big part of my daily routine, and I was in need of interesting content to listen to. A friend of mine suggested that I listen to Podcasts, to which I responded, "huh?".
I did some research and it turned out Podcasts were pretty cool; they offered free, targeted, on-demand content? Heck yeah!
I listened to mainstream stuff at first, like NPR. But then I started exploring other shows like Pat Flynn's Smart Passive Income and Jaime Master's Eventual Millionaire.
My AH-HA moment
I started listening to shows that interviewed other Entrepreneurs, and I realized something big: there were great podcasts out there, but none that interviewed successful Entrepreneurs daily.
The idea was born…
My concept for a daily show began to form – a show that would tell the STORY of the featured Entrepreneur.
Their worst entrepreneurial moment and lessons learned. Their AH-HA moment and their steps taken to turn that moment into success. A lightning round of questions that would end with a BANG!
I sat down and created my avatar (Jimmy) and then crafted the perfect show for Jimmy: Entrepreneurs ON FIRE. Check out the video below to see how in-depth I went when creating my avatar…
Once I started…
Once I committed to launching a Podcast, there was no turning back.
I was thoroughly enjoying every second of every day. Creating content on a daily basis was feeding my passion to which had an endless appetite. I started waking up earlier each day and working 12 hours without even noticing.
My goal was to provide as much value as possible and hopefully gain followers and fans that were benefiting from the content I was providing.
Entrepreneurs ON FIRE launched on September 22nd, 2012, and I followed this VERY simple recipe for success: Create free, valuable, and consistent content.
Before long, a community began to form that I lovingly refer to as Fire Nation, and they've guided me ever since.
Fun facts about JLD :-)
I won a car on The Price is Right in 2011!
I was featured in the 2009 Bollywood 'Movie of the Year', Yuvvraaj 
Meet my better half!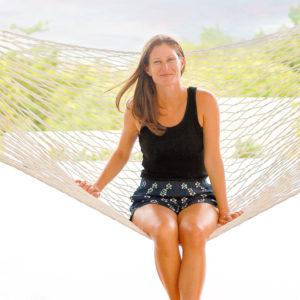 Hey, Fire Nation! My name is Kate, and I joined Team Fire in April 2013 as the Content Creator. Since, I've grown to consider myself the overall Engine of things here at Entrepreneurs On Fire.
So how to heck did I get here?
The switch from Corporate America to entrepreneurship
Well, the short answer is this:
In early 2013 I left my corporate job at an advertising and marketing agency to finally start creating the life I wanted to live – one where someone else wasn't dictating my every move.
The long answer is this:
I earned my graduate degree in English in 2008 with high hopes of becoming a college professor: my dream job.
When I realized my dream was far from becoming a reality due to funding cuts across the state of California, I went after any job I could get, which landed me in the HR department at a bank.
I spent the next three and a half years in the same position, earning an average hourly wage, and going home every single night feeling unaccomplished and under-appreciated.
It wasn't until an internal promotion that had been promised to me was promptly given to someone outside of the company that I finally said ENOUGH.
I knew there had to be something better out there…
The day I lost that promotion was the day I promised myself I would quit my job to pursue a life on my own terms.
Within 6 months I had quit my job and was moving cross-country with John to the state of Maine.
My first entrepreneurial leap
My first entrepreneurial leap was to start a copywriting agency I called Kate's Copy.
After 6 months of struggling to even understand what it meant to be an entrepreneur – let alone how to become a successful one – I went back to Corporate America.
But this time was different.
Unlike my HR and banking days, I was stepping into an Account Executive position at an Advertising and Marketing agency – an industry I knew I could learn a lot from and a field I was truly passionate about.
Unfortunately, once the initial excitement wore off from stepping into a new position at a new company, I found myself slaving away for clients and, just like in banking, receiving little in return.
But I loved what I was doing. I didn't want to quit this job.
One day I thought to myself: if only I could do what I love and still go home at the end of the day feeling fulfilled, and like I've actually helped someone.
Combining my passions and expertise
It was right around this time that John shared his vision of creating a daily podcast interviewing today's most successful and inspiring Entrepreneurs with me.
I cheered him on from the sidelines and was his biggest fan. I was even able to take some of the strategies I was learning at the agency and share those with him during his early days of launching and growing the business.
In late 2012, as Entrepreneurs On Fire continued to grow post-launch, John came to me and asked what I thought about teaming up at Entrepreneurs On Fire.
Things were really starting to take off – he was growing an audience and generating recurring revenue, and in order to start creating products and scaling the business, he needed help.
While I wasn't initially convinced, we continued to have conversations around the idea of me joining Entrepreneurs On Fire.
Over the next couple of months we talked about the types of projects I might work on, what types of tasks I would be responsible for, and we took time to compare our strengths and weaknesses to see how and where we could best support each other.
Once we were both feeling comfortable with the trajectory of Entrepreneurs On Fire, and once I was confident that I'd be joining the team to do something I love AND be able to feel fulfilled and like I'm helping others at the end of the day, I took my 2nd entrepreneurial leap.
Today, I'm so grateful to be John's partner here at Entrepreneurs On Fire and to be serving each and every member of Fire Nation.
Over the past several years I've also uncovered new passions. My most recent: helping entrepreneurs create freedom in their business and life through developing systems and processes that can help their business scale and grow.
Team Fire
We're just two members of an incredible team here at Entrepreneurs On Fire. Everything we've created has been made possible because of the support of our team.
Click here to meet Team Fire!
Entrepreneurs On Fire: Our Journey at a glance